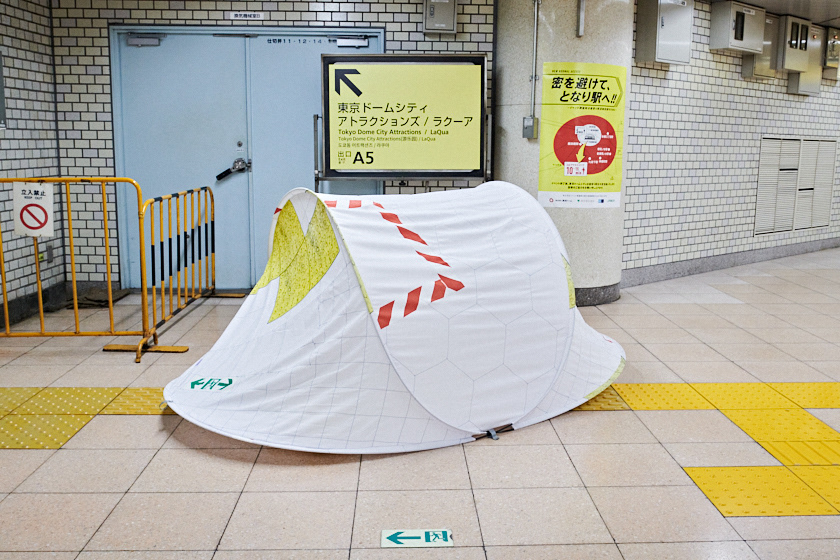 Pyoo-puh
fabric, screenprint, fiberglass, wooden container, instruction manual, 2021
in collaboration with Maarten Schuurman
Pyoo-puh is part of the exchange project and exhibition Export / Import together with the artists of Alternative Space The White in Tokyo (JP).
In the past year, the freedom of movement of all people has been drastically curtailed by the corona virus. Unlike people, works of art are not restricted in their movement. We should therefore not restrict them because we cannot travel ourselves.
This exhibition Export / Import is a collaborative project with the artists Ikuhisa Sawada, Osamu Sakuma (Rondade) and Hiroyuki Arikawa (Workshop tm) of Alternative Space The White in Tokyo (JP). Together we explore the possibilities for developing and presenting long-distance work in pandemic times.
Works have been made in both Amsterdam and Tokyo that thematizes distance, communication and mobility. These works were then sent in a specially made container to the other location by means of freight post without courier/artist. The works are accompanied by an installation manual that can be interpreted flexibly by the receiving artists. The works thus move autonomously beyond the intentions and preferences of the initial maker. The installation and de-installation of the works is documented and translated in a joint publication.
The exhibition in Amsterdam takes place at ps. K_o_t.

This project is made possible by the Embassy of the Kingdom of the Netherlands in Japan.