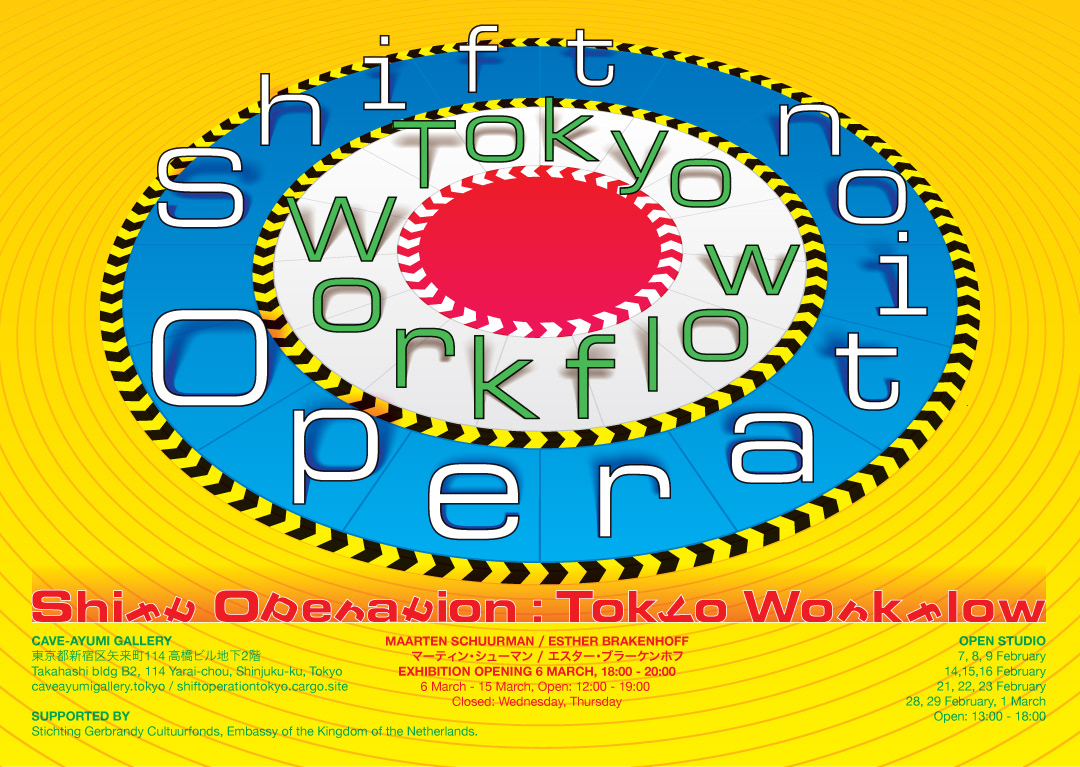 Shift Operation : Tokyo Workflow
installation + project at Cave Gallery, Tokyo (JP), 2020
Open Studio: 7 february - 1 march 2020                                      
Exhibition: 6 - 15 March 2020                                              
                                                  
Shift Operation is a series of projects in collaboration with Maarten Schuurman. It researches the micropolitics of space in relation to artistic practice. The development and exchange of ideas about work processes and forms of cooperation are central. The name Shift Operation refers to the industrial production process that involves shift work. We use the idea of shift work as a basic structure for Shift Operation. We invite artists from various disciplines to join the project and form a temporary artists' community together with us.
Shift Operation as a series of projects taking place at different locations with different groups of artists. Each version therefore has its own dynamics, process and outcome. For this we use the installation as a working form. Within each new location, the installation forms an autonomous space with its own working method and rules.  
Shift Operation : Tokyo Workflow

took place at Cave Gallery, Tokyo from January-March 2020. The dynamics of the continuous urban evolution of Tokyo was translated into the form of the installation.The gallery space of The Cave was transformed into a factory hall with the associated logistics systems like mobile workstations and a conveyor belt analogous to the industrial work process. 
In february we worked together with eight local artists inside the installation during our open studio days.The installation was open for the public throughout this period to follow the development.
The installation and works

created together with the groups of artists were presented as a gesamtkunstwerk as an exhibition in March.

 
Participating artists: Asayo Yamamoto, Soda Noriyasu, Jin Yeowool, Thomas Gillant, Rie Shinno, Mio Hanaoka, Shiori Ukishima, Yui Nagashima.
Supported by Stichting Gerbrandy Cultuurfonds and the Embassy of the Kingdom of the Netherlands in Japan.